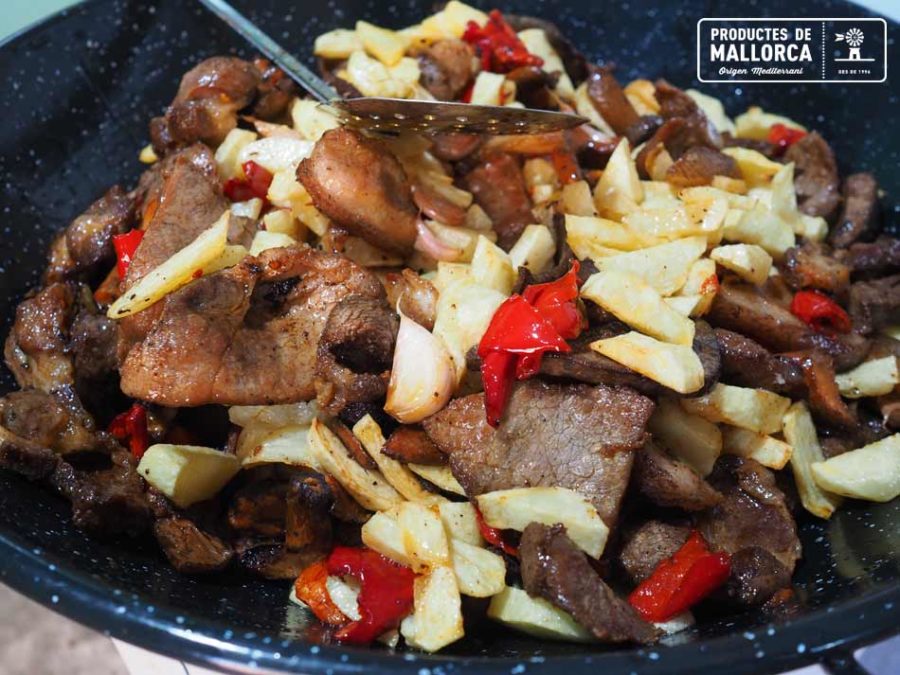 El frit de matances, or frito de matanzas, is a traditional Mallorcan dish that is usually eaten on the day of the pig slaughter. It is offered to the participants in the works of the slaughter (to recover strength) and to the guests of the family, in what was called el berenar.
Also during this lunch, the fried or grilled loin is tasted, as well as those parts that are more difficult to preserve, such as the liver and the heart, which at the same time are also those that provide the most immediate source of energy.
The food of the day of slaughter can easily remind us, by its parallelism, the ritual of meals of the hunters. First, the most energetic parts that can be spoiled are used, and then, more calmly, the most elaborate and sophisticated dishes.
Ingredients for 4 to 6 persons:
6 garlic cloves
2 kg potatoes
5 red peppers
300 gr pork liver
250 gr bacon
300 gr pork loin
Pork chop
olive oil, salt, 2 chilli peppers, 1 laurel leaf
Preparation of the frit de matances:
Peel and cut the potatoes in thick strips and fry them with the garlics. Reserve it in an earthenware casserole.
Chop the pork loin, bacon, liver and pork chop and sauté them (in the oil with which you fried the potatoes) along with the chopped peppers, chilli pepper and laurel leaf. Finally, when it is well cooked, mix with the chips in the earthenware casserole. Mix carefully to prevent the potatoes from breaking.
Serve hot.
Some say that the best thing is to cook it from one day to the next, because the potatoes are impregnated with the flavors of the meats…, the truth is that if you participate in the work of the slaughter, and you win the lunch, the fried one is delicious recently done, and it feels marvelous.
Follow the link below if you want to know more about slaughters in Mallorca: Pig slaughter in Mallorca