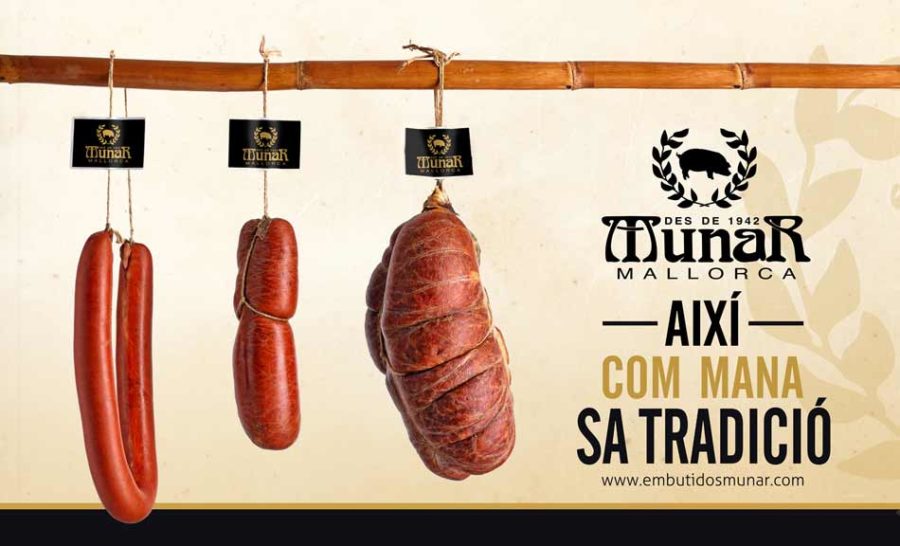 Here we will explain you how to store sobrasada so that it maintains its best properties.
Curing
As sobrasada is a raw sausage, it needs to be "cured" in order to be consumed safely. The entire curing process takes place in the producer's dryer, so it does not leave the factory until the sobrasada is in perfect condition for consumption.
Traditional pantry
In Mallorca, with the humid and temperate climate we have, the conservation of sobrasada is something known to Mallorcans. A dark, airy and fresh pantry is ideal for storing sobrasada that can transpire well, for which it is very useful to hang it from a cane. A sobrasada stored in this way can be kept for months (always bearing in mind that it will lose some weight).
How to store sobrasada – ideal conditions
For a sobrasada stuffed in natural casing, the ideal conservation conditions are:
Temperature: between 10° and 15°C
Humidity: between 70% and 80%.
Vacuum packaging
For shipments to the mainland Spain or outside Spain: Sobrasada consumption is not so common and the conditions of temperature and humidity are different, so sobrasada is usually sent vacuum-packed In this case the ideal storage temperature is between 4° and 8° C. and the degree of humidity does not affect. Therefore, if it is vacuum-packed, it must be kept refrigerated.
You can also remove the vacuum pack, clean the surface of the sobrasada with a cloth or kitchen towel, and hang it in the pantry, bearing in mind that since it is a natural sausage, it may drip slightly at first.
Over time, when the sobrasada is in the pantry without a wrapper, mould may appear on the skin of the sobrasada. There is no need to worry about this, as it does not affect the quality of the sobrasada. This mould can be easily removed with a cloth or kitchen towel.
How to store sobrasada – once open
Once the sobrasada has been cut, in Mallorca we also keep it in the pantry. If you prefer, you can keep it in the fridge, although in this case, the ideal thing is to wrap it with a transparent kitchen film to prevent it from drying out.
Know a good producer of Sobrasada de Mallorca, follow the link: Jaume Munar, a master of sobrasada