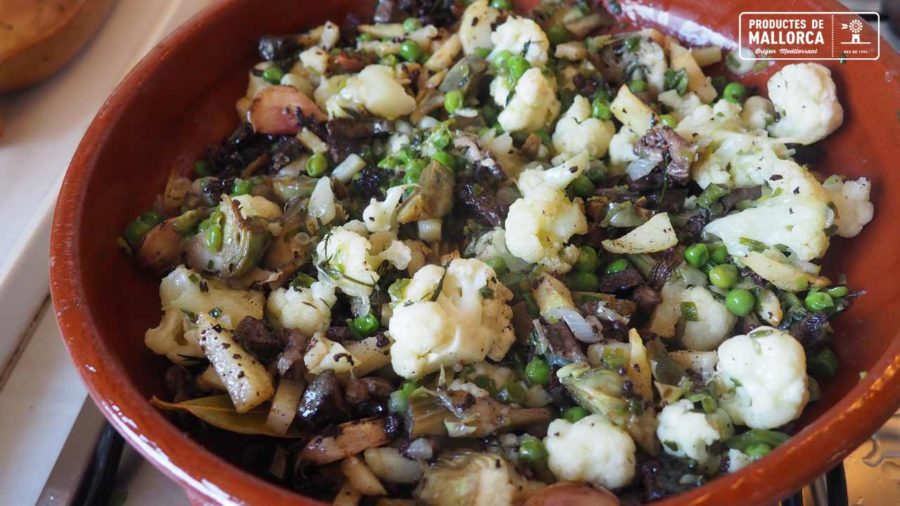 Making frito de cordero known in Mallorca as frit de Pasqua or frit de freixura is a tradition in Mallorcan families. The dish traditionally eaten on Easter Day.
This dish can be found at any time of the year in the traditional restaurants of the island of Mallorca.
Origin of frito de cordero
It is believed that it has a Sephardic origin, since it presents similarities with the Jewish-Saardi and Arab cuisine.
It is cited in old recipe books as a medieval cookbook from the 14th century, the Llibre de Sent Soví.
What is it?
This is a dish traditionally made from the fried offal and cooked blood of the lamb, with potatoes, young beans, onions and fennel, and is usually seasoned with salt, pepper and chilli.
How to make frito de cordero – recipe
Ingredients:
Lambs viscera (sold at the butcher's)
Cooked lamb's blood (sold at the butcher's) 200g
Spring onions 2 bunches
Medium sized potatoes 4
1 head of garlic
3 seedless chillies
6 artichokes
Baby beans 200g
Sweet peas 200g
Cauliflower 200g
Fennel shoots
3 laurel leaves
Olive oil, salt and black pepper
1 brandy glass (optional)
Preparation:
We strat by frying the potatoes.
Peel the potatoes and cut them into cubes or strips and fry them with some crushed garlic in a frying pan. Leave them undercooked, and let them rest, drained, in a clay pot.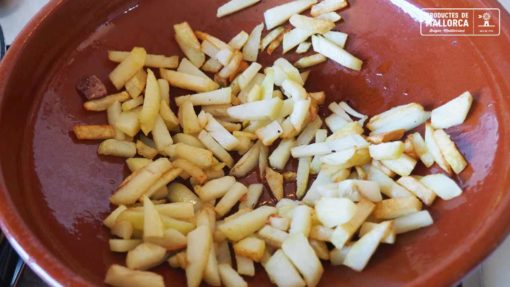 We move on to the viscera and the blood
If it wasn't cut off at the butcher's, cut the viscera into small pieces. Shred the cooked blood. Season the mixture of both with the pepper, salt and chilli and fry it in the same oil in which you have fried the potatoes.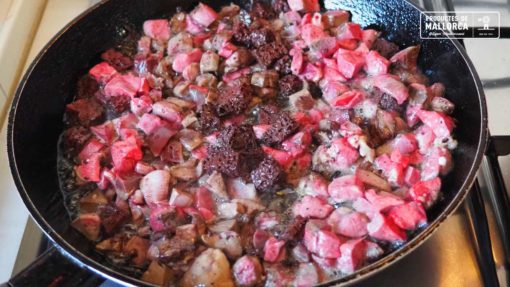 When it is done, add the fennel shoots, cut very thinly, and the laurel leaves, and let it fry a little more.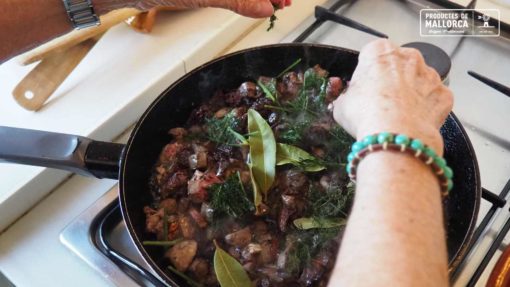 Then pass it, drained, into the clay pot, with the potatoes.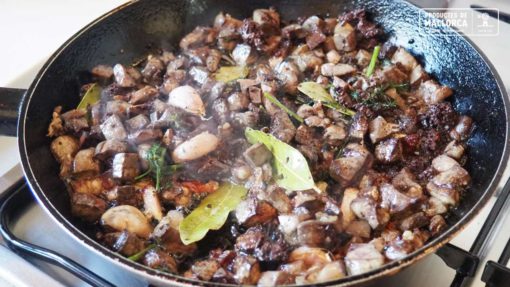 We go on to process the vegetables
Remove the hardest parts of the artichokes and cut them into thin pieces.
Cut the cauliflower in small pieces.
On a low heat, in clean oil, fry a finely chopped onion, the spring onion cut very thinly until it begins to melt, and add the baby beans in small pieces.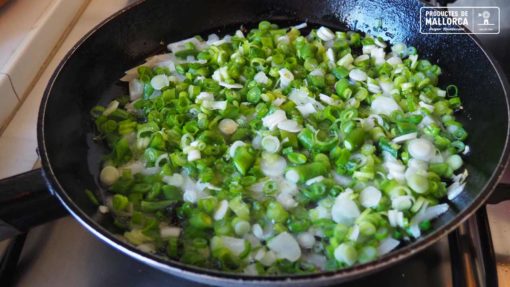 Add the artichokes and the cauliflower.
Add the sweet peas.
Put the casserole on a low heat and add all the vegetables once they have been drained.
Stir and cook for 8 minutes.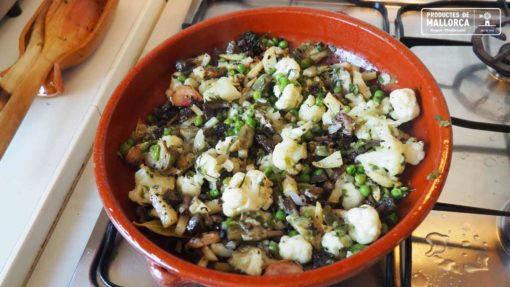 Before eating, put the fried food back on the stove for a few minutes.
This dish is served hot.
The video below shows in a more graphic way how to make frito de cordero or frito mallorquin:
Another typical Mallorcan Easter dish is Mallorcan empanadas, or panades. If you want to know about this traditional Majorcan dish, follow the link: How to make Mallorcan empanadas