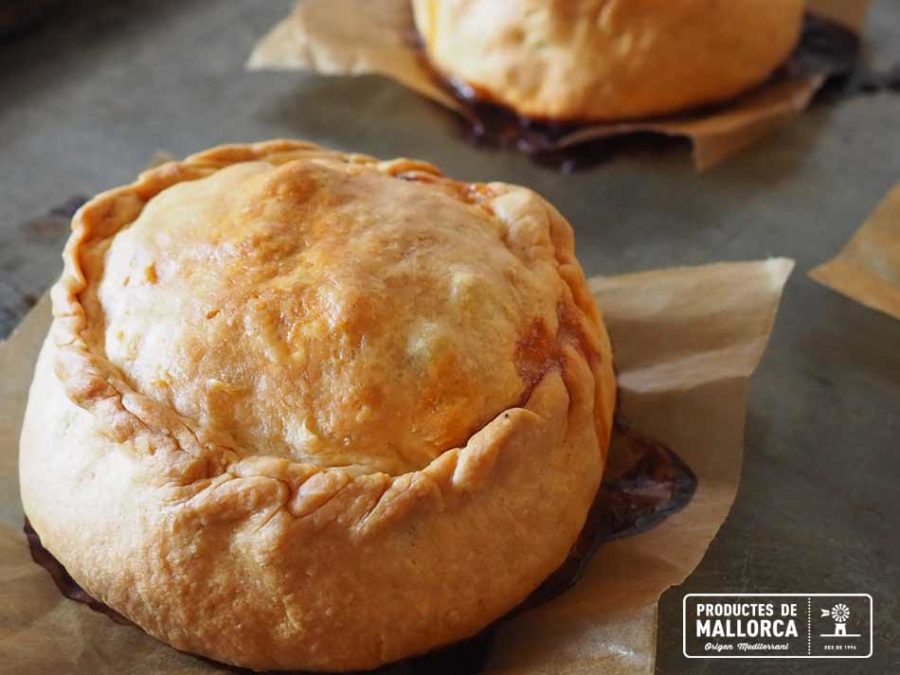 How to make Mallorcan empanadas
This blog is devoted to making known peculiar aspects of our culture. On this occasion I will explain how to make Mallorcan empanadas, or as they are called here "panades".
Easter Gastronomy
Holy Week is coming soon, and with it a rich gastronomy that we look forward to every year. One of my favourite things at this time is the empanada, or panades, as they are called in Mallorca. You have to wait until Easter to eat empanadas.
Have you ever wondered why certain dishes in our cuisine are associated with certain dates on the calendar, or with religious events? Why we eat the empanadas at Easter, not at Christmas. There is a reason and we will explain it to you here.
Lent, in the Christian religion, is the period of forty-six days from Ash Wednesday to the eve of Easter Sunday. During these days, Christianity (although not in all its branches), precepts certain days of fasting and penance in memory of the forty days that Jesus fasted in the desert. Desde el año 1966 el ayuno y la abstinencia durante la cuaresma son sólo obligatorios el miércoles de ceniza y el viernes santo.
After the fasting on Ash Wednesday and Good Friday, the possibility of eating meat is taken up again. Thus, the following Saturday it is customary to eat fried lamb, meat and pea pies, and for dessert rubiols and crespells.
A festive event
Volviendo a las empanadas, contaros que la tradición es reunirse en familia para hacerlas, lo cual, de alguna manera, es también una pequeña fiesta. Every cook has their own version, which they repeat year after year, inherited from their mother, grandmother, or perhaps learned in someone else's kitchen…
Mallorcan empanadas can be made with sweet dough (formerly something exclusive to the stately homes of Palma) or with normal dough (which was that of the popular classes).
On Easter Sunday it was a tradition that groups of young people went to sing around the houses in exchange for some crespells, rubiols, and if they were lucky, some empanada. In today's Mallorca, this custom is only maintained in a few villages.
And since we've talked so much about the empanadas, here's a recipe for making them:
How to make Mallorcan empanadas – the recipe
Ingredients for the dough:
1 kg of flour
200 g of lard
2 egg yolks
1 cup of olive oil
a glass of orange juice
Half a glass of water
Filling ingredients:
Half a leg of lamb very tender, boned and cut into small cubes
A pork tenderloin
1 kg of small peas
50 g of bacon
50 g of sobrasada
Olive oil
Salt, black pepper and sweet paprika
Preparation:
The day before, prepare the stuffing:
Mix the meat and bacon well with salt, black pepper and oil and leave to stand.
And the peas should also be seasoned and left to stand.
The day of the empanadas
The lard is better worked if it is heated a little in advance. Beat the lard with the egg yolks until it is integrated.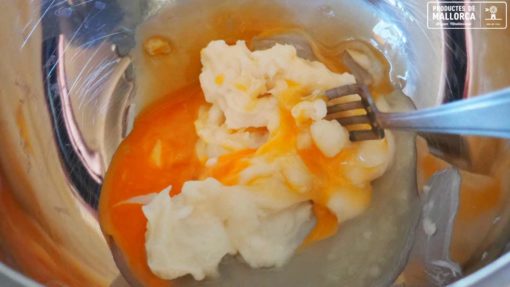 Add the olive oil and beat again.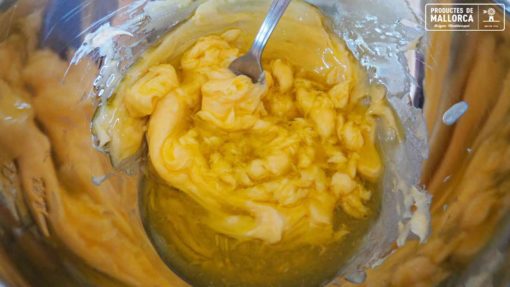 Then add the orange juice and beat again.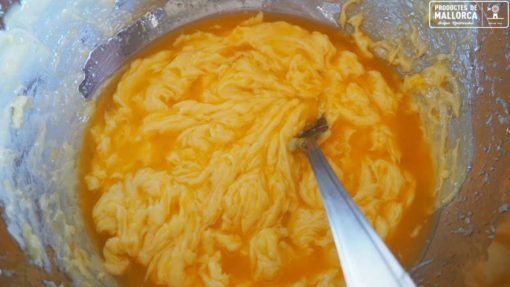 Add the flour as it is passed through a sieve to avoid lumps, and beat it.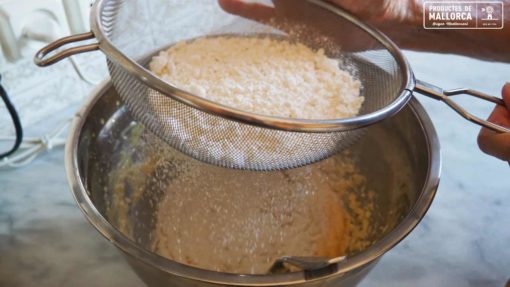 Add half a glass of water, and continue to add flour and beat.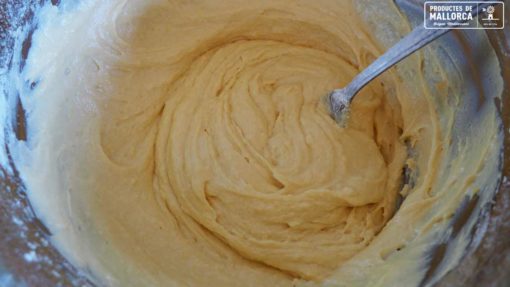 The dough should be firm and easy to work with and not stick to the hands.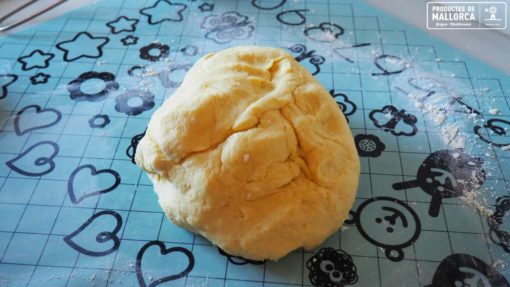 Let the dough rest for an hour covered by a clean cloth.
Dough ready – let's build the empanadas
When the dough is ready, we must make balls of dough that will fit into a fist.
With each ball make a bowl like the one in the picture below.
It is important that the base, walls and lid of the empanada are thin. If they are made too thick, there is a risk that the dough will remain raw inside.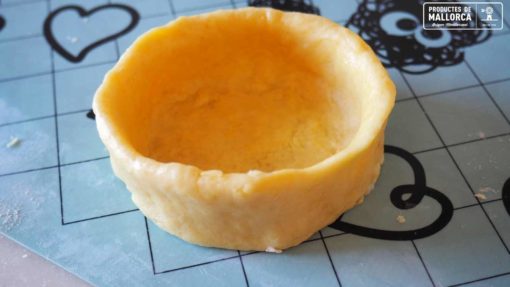 And we'll fill each bowl with the meat, the peas and a little piece of sobrasada.
If you place each empanada on a piece of brown paper, or baking paper, it will be easier to handle and will also prevent it from getting stuck to the baking tray.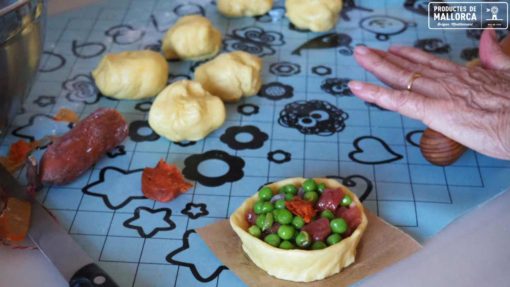 With a small part of dough make a disk that will serve to make a lid. And make a sealing cord by pinching the parts to be joined.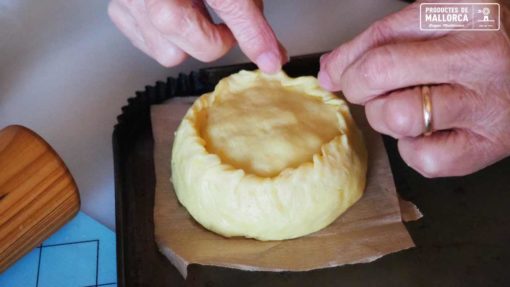 The lid closes the bowl by pinching the edges of the dough, making a sealing cord. The skill of the experienced cook is demonstrated here.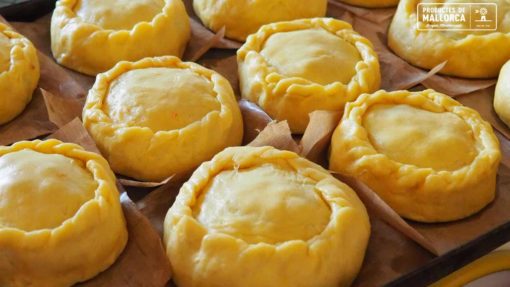 Pre-heat the oven at 200°C. When you put the tray in the oven, lower it to 180°C, and bake for 50 minutes.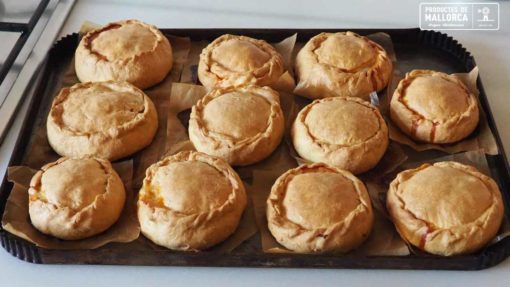 The filling should be well cooked and juicy.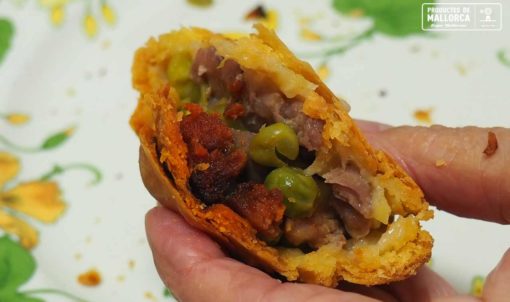 Enjoy your meal!
Take a look at the video we made:
I copy below a link to our previous recipe, which was also from Easter, the recipe of the robiols, or rubiols: How to make robiols