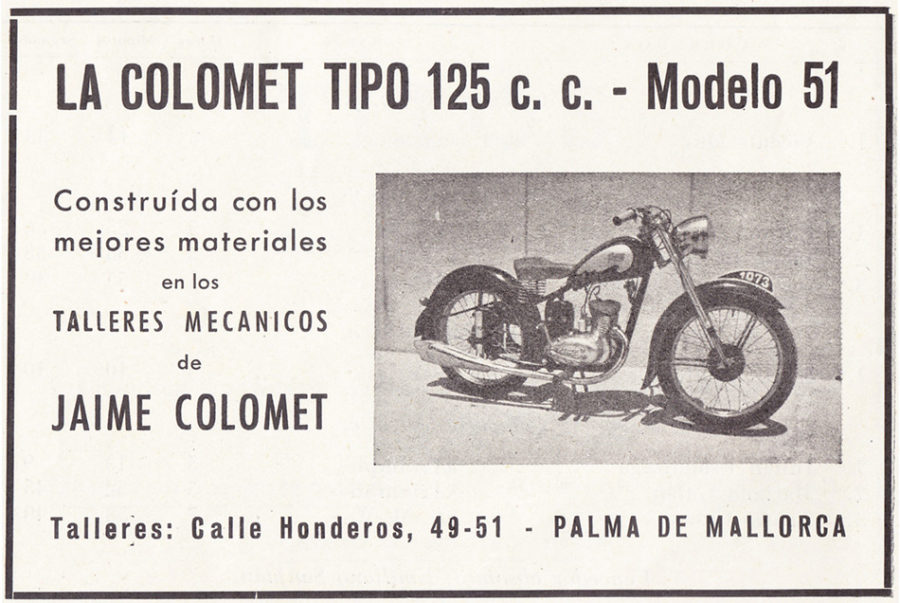 The great variety of roads and the good climate of the island, have always invited to travel Mallorca on two wheels, on a motorcycle.
But did you know that motorcycles were also made in Mallorca?
It was the '50s and '60s and the country was beginning to prosper, the Spanish needed economic means of transport. So some brave entrepreneurs set out on the adventure and started making motorcycles.
Mallorcan motorcycles: Colomet
Many brands appeared in Spain, but the one that became most famous in Mallorca was Colomet, which was the one that managed to manufacture the most motorcycles.
In the '40s Jaime Colomet was in the United States working in the Chevrolet house and combining engineering studies. After a few years there, he returned to Mallorca with good technical knowledge, with savings and above all, with a great entrepreneurial spirit.
Jaime Colomet and his brother Antonio set up a workshop on Honderos Street in Palma, where they manufactured different things: marine engines, gas generators and also motorcycles. They started with a small 49 cc model, which was actually a bicycle with a motor attached.
Later, in 1951, they began to make a larger model, 125 cc and then one of 150 cc. It seems that the first units were inspired or used pieces of the English BSA Bantam and that little by little they had more and more own construction. There are no exact figures, but it is said that a total of between 200 and 500 motorcycles were built.
Other brands
Another Mallorcan brand was the Coronat, it was 175 cc and was born thanks to the talent of Jaume Llobera in Inca. It was by far the most technologically advanced. Less than 10 units were manufactured.
The BMS were created by Baltasar March Santandreu de Santa Margarita, and were a little larger, 250 cc. The production was about 30 motorcycles.
And apart from these three, there were also the brands Bordoy, Bibiloni and in Menorca the engines Joyca…
We still like to travel Mallorca on two wheels, but unfortunately all these projects did not last long. Insularity and funding problems made them nonviable.
The history of Mallorca never ceases to surprise us. This island has been the cradle of true geniuses. Meet one of those Mallorcans who was not recognized in life, and yet we must remember him for his talent: The precursor of the helicopter