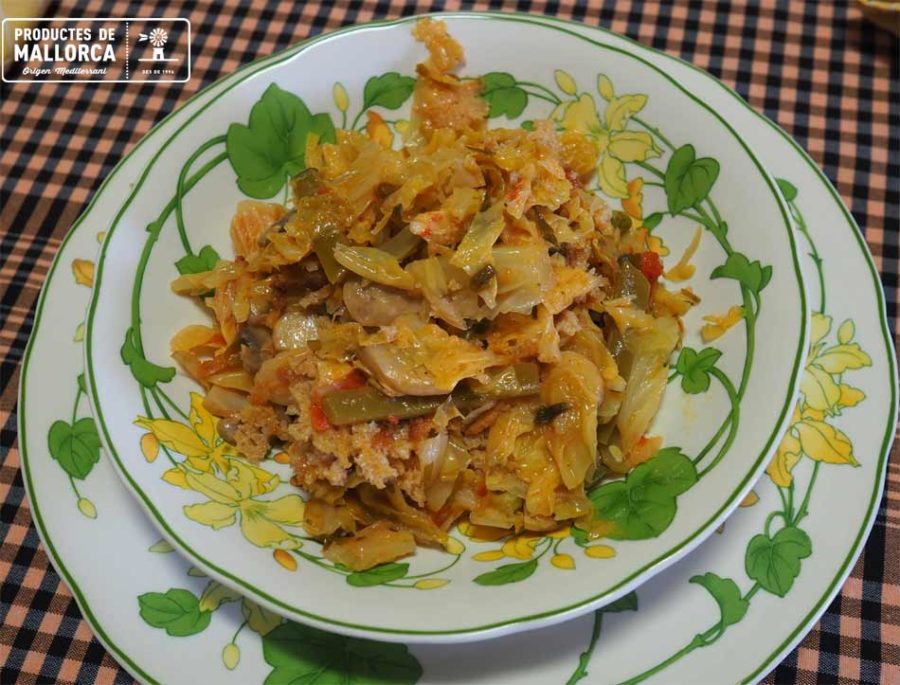 The sopas mallorquinas de invierno or Mallorcan winter soups are one of the best-known and most popular dishes in traditional Mallorcan gastronomy. It is made with the available vegetables during winter.
Formerly it was made with the vegetables that were at hand that day, so it was a dish that easily solved the daily meal. Ingredients can change every day except one. The only indispensable ingredient is very thinly sliced and dried bread, which is called soups or soup bread.
Once the vegetables have been cooked, they are served hot on a slice of soup bread.
Here's the recipe for some vegetarian Mallorcan winter soups
Ingredients
Bread for soups (brown bread cut into thin slices and dried)
Vegetables to choose from: white cabbage, cauliflower, onion or sauté, ramellet tomato (a very tasty local variety of dry cultivation), green beans, peas, mushrooms, artichoke…
Garlic, olive oil, salt, sweet paprika…
and, if you like spicy, a little chili.
Water or vegetable broth
Preparation of sopas mallorquinas
Put to heat olive oil in a clay pot Crush some garlic to flavor the oil. Then I add the onion or finely chopped spring onion, and then the peeled ramellet tomato, finely chopped.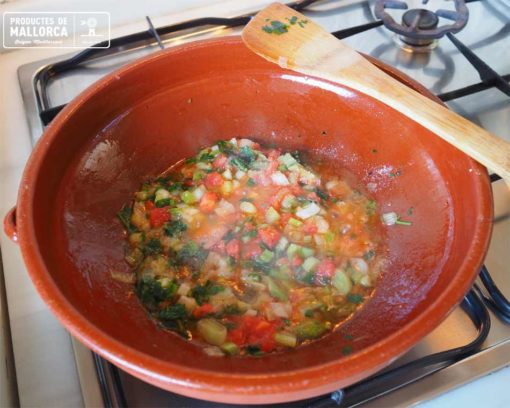 Then I add the mushrooms cut into strips, add water (or vegetable broth) and then the green beans, peas, and cabbage cut into small pieces to make it easy to cook.
Add paprika, salt and chilli pepper.
Let it simmer until the vegetables are well cooked.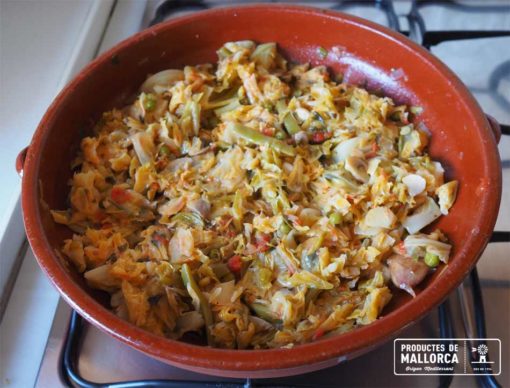 Serve on each plate on a slice of bread for soups. This bread for soups can be found in some classic grocer, or do it the same day before (if it is very dry it is preserved for months).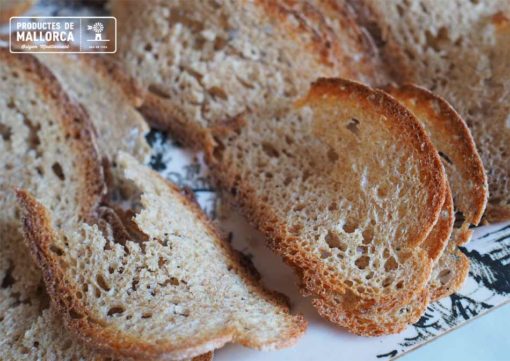 The broth tends to evaporate, and any remaining at the end will be absorbed by the slices of dry brown bread, so this dish can be eaten perfectly with a fork.
It is usually accompanied by sprigs of sea fennel in vinegar and Mallorcan olives. Read some interesting post about the sea fennel: …
You may compare it with the Summer soups, by following the link: Summer Mallorcan «sopas»
If it coincides with the pig slaughters that take place since December and even before if it gets cold, usually add pork (loin, rib, …), but I will explain in another post.