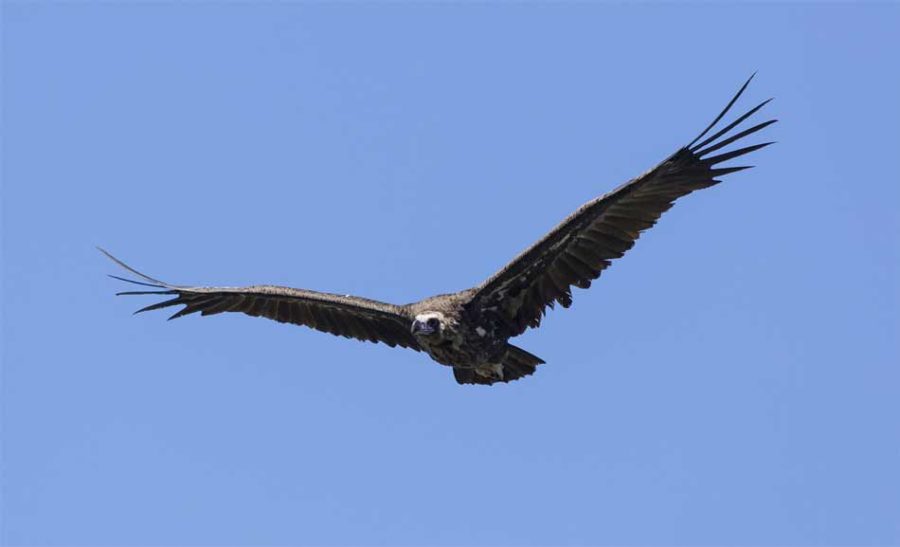 The expression "eres un buitre" or "you are a vulture"
I'm sure if someone tells you eres un buitre or you are a vulture, you're not going to like it very much, because the word vulture in Spanish has quite negative connotations. But the truth is that nature is wise and somehow every living being, every animal, and every vegetable is very specialized and fulfills a concrete function in the natural cycle.
And the vulture plays a role perhaps not very pleasant, but very important, because being a scavenger animal contributes to keeping the environment clean.
Black vultures in Mallorca
Maybe you didn't know, but here in Mallorca there are also vultures, the "Voltor negre" (Aegypius monachus). In fact, it is the only island in the world that has a population of these birds.
In the 1980s it came close to extinction on our island, as they were considered harmful and were shot, captured or poisoned. Thanks to different awareness, re-population and conservation programs it now appears that there is a healthy and stable population. It is estimated that there are about 45 pairs and a total of 250 specimens. Live in the cliffs of the Serra de Tramuntana and on some occasion that I have gone on an excursion to the mountain I have been able to see them.
Dimensions of the black vulture and its capability to fly
It is the largest bird in Europe with a weight of about 8 kilos and a wingspan of almost 3 meters from tip to tip. I love to fly, especially in gliders without engines. The "Voltor negre" of Mallorca seems impressive to me: black, enormous wings, silent, and with a really majestic flight.
For those of you who like aviation, it might remind you of a U2, the famous American spy plane. And for those of you who enjoy mountain and "Bird watching",the location of a "Voltor negre" flying will surely be the star observation in Mallorca.
Local organizations involved in protecting the black vulture
f you want to know more about the Voltor negre, we do recommend that you go to Campanet, the Fundación vida silvestre mediterrània (FVSM) Mediterranean Wildlife Foundation (FVSM). In addition to having several vultures that they take care of with care, several specialists will explain in detail the peculiarities of these animals.
In order to see black vultures flying over Mallorca, follow the link or click on the video: Black vulture flying over Mallorca
Do you want to meet a tiny inhabitant of the Tramuntana in Mallorca:I'm not a Martian