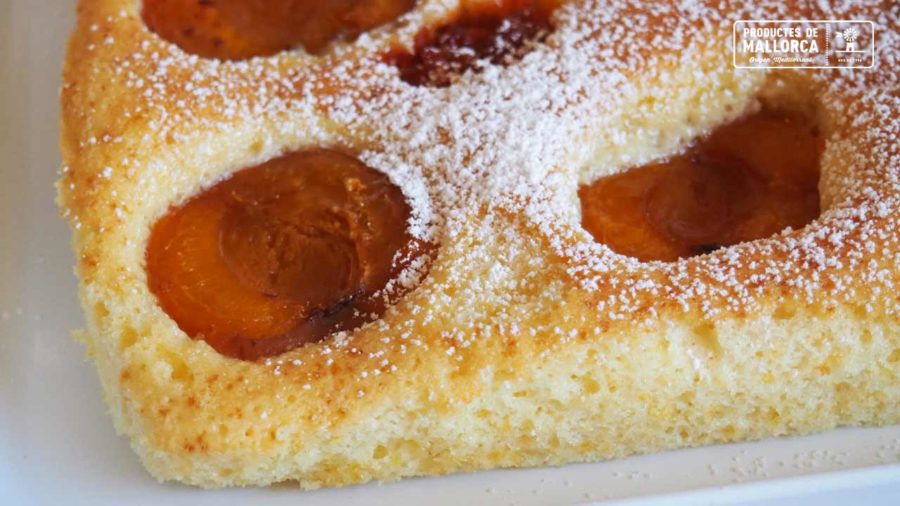 Apricot cake with sobrassada is a traditional Mallorcan dessert. A very fluffy, sweet cake. The combination of flavours when adding sobrassada may surprise some, but it must be tasted to be appreciated.
When in the middle of summer a party was organized at home and we waited for guests we always had to bring an apricot coke from the oven in Son Carrió. You had to order it the day before, and not take too long to pick it up from the oven as there was a risk that someone would take it.
There are several recipes for this Mallorcan sweet. A very tasty recipe involves potatoes. This recipe I'm writing here is very old and I learned how to make it recently. It's delicious! I recommend that you try it with sobrasada, although this is optional.
I edited an explanatory video, which you can see at the end of the article.
Apricot and sobrasada cake recipe
Ingredients
1 kg of ripe apricots
4 eggs
250 g of strong flour
250 g of caster sugar
90 ml of olive oil
90 ml of milk
and 90 ml of orange juice
a sachet of baking powder
powdered cinnamon
Sobrasada from Mallorca
Preparation
Cut the apricots in half and discard the seeds.
Place them in a tray with the seed holes facing upwards.
Sprinkle with powdered cinnamon and a little sugar on top and leave to macerate for two hours.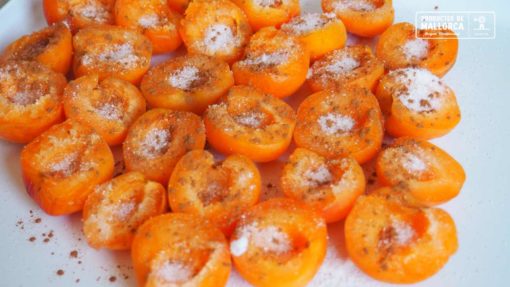 Separate the yolks from the whites of the eggs.
Place the yolks in a bowl, and add the oil, orange juice, milk and sugar. Beat until the sugar dissolves.
Keep beating it as you add the flour and baking powder.
Beat the egg whites until stiff and add to the mixture in a wrap-around motion so that the volume is not lost.
Spread the dough on a high-edged baking tin.
Distribute the apricots alternating with pieces of sobrassada (half the size of apricots) evenly over its surface.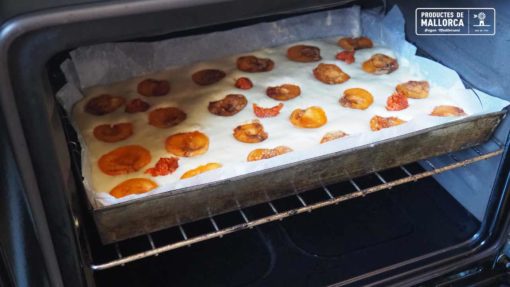 Bake at 170ºC during 45 minutes.
Serve cold with sugar on top.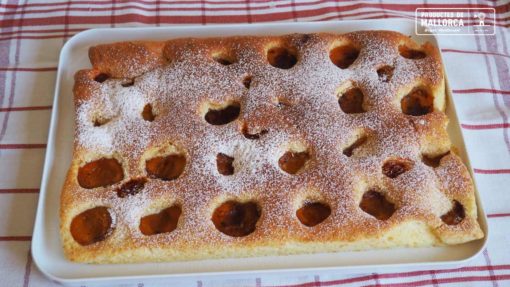 The village of Porreres, in Mallorca, is known for its apricots. Every year, the town council of Porreres organizes a festival, the "Fira de l'albercoc" where you can taste all kinds of desserts made with this sweet fruit. Follow the lkink to know more: Apricot festival in Porreres
Take a look at the video we edited about this recipe: