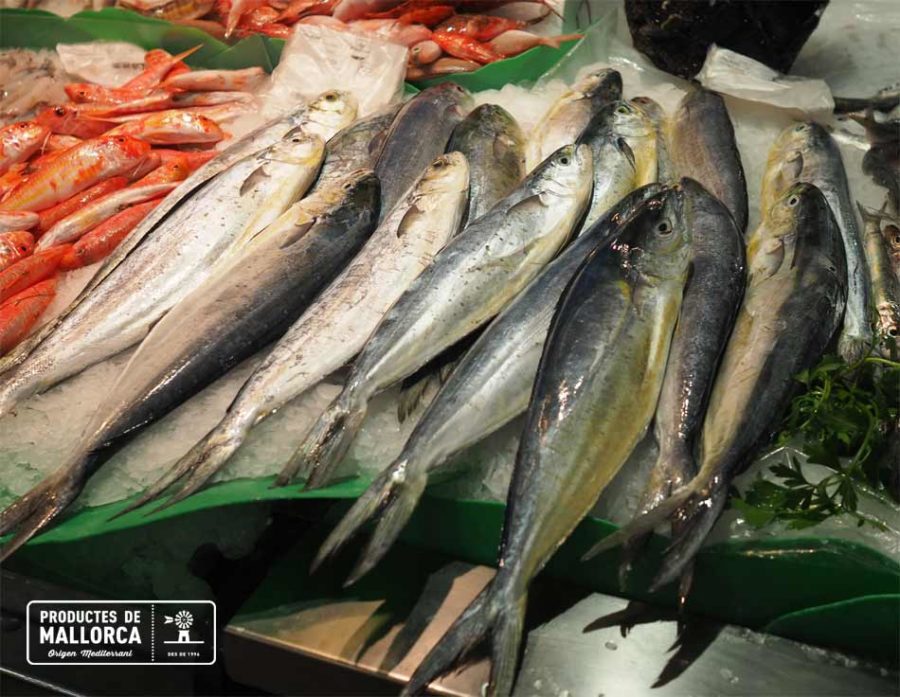 Recipe of llampuga with peppers
The recipe for the llampuga with peppers is really easy to make. You just need to have the llampuga, which is a season catch. September is the month of the llampuga in Mallorca. Take this opportunity to prepare this tasty seasonal recipe.
The llampuga is a migratory fish that lives close to the surface of the sea, generally between 5 and 10 meters deep, and travels the entire ocean from the Caribbean to the Mediterranean.
It has a color that turns between blue, green and yellow. The recreational fishing of this kind is usually done with the boat in motion, dragging a bait, which may be artificial or natural at some distance from the boat. It is a fishing that can be boring if they do not bite, but as soon as they do it is spectacular for the jumps out of the water.
La llampuga – origin of the name
This seasonal fish appears on Mallorca when the summer ends and the thunderstorms arrive. In Mallorca we say that the name llampuga comes from the Mallorcan word "llamp" which means lightning, associating it with the time of storms in which it flashes. Other theories associate the name to the colors that their sides acquire once out of the water.
Recipe of llampuga with peppers
Ingredients for 4 persons
2 big llampugas
4 red peppers
1 head of garlic
Preparation
Clean the fish and cut it into 2 or 3 cm wide slices.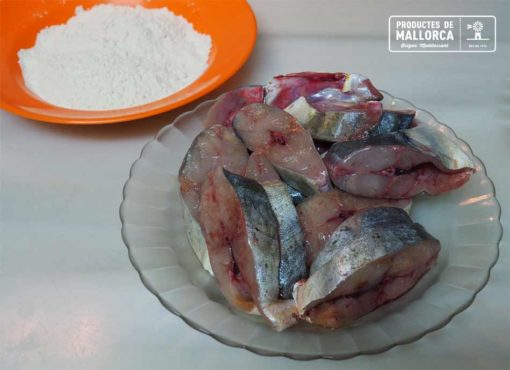 Pass the fish through flour.
Fry the fish in olive oil, take it out of the oil and let it rest.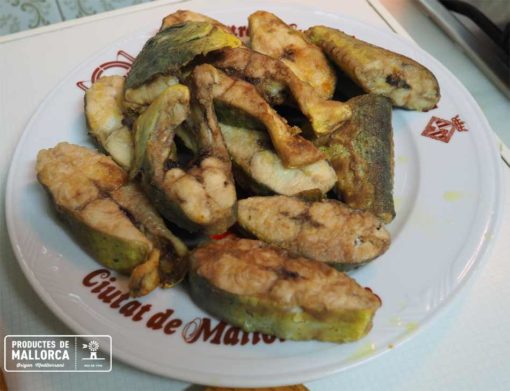 Wash the peppers, cut them into thick strips, removing the seeds and tails.
Using the oil in which the fish has been fried, fry the garlic together with the chopped pepper.
Once the peppers are soft, add the fish, placing it so that everything is well mixed. Let it simmer for a few more minutes, and it's ready to eat.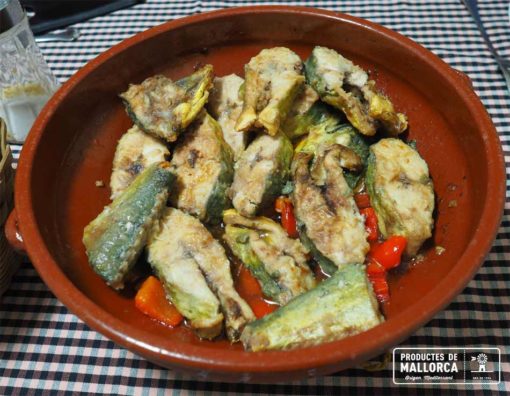 At the end of the meal, if leftover, store it in the fridge. Tomorrow will be even better.
Better serve it hot.
The recipe of llampuga with peppers is simply delicious, after lunch, you may feel like having a siesta. Summer is ideal for resting. If you are close to the countryside it is very likely that your siesta will be harmonized by a very typical song of this season. Follow the link to meet the author of the tune: Summer music in Mallorca
We have edited a video of this recepit. Just click on the link below: