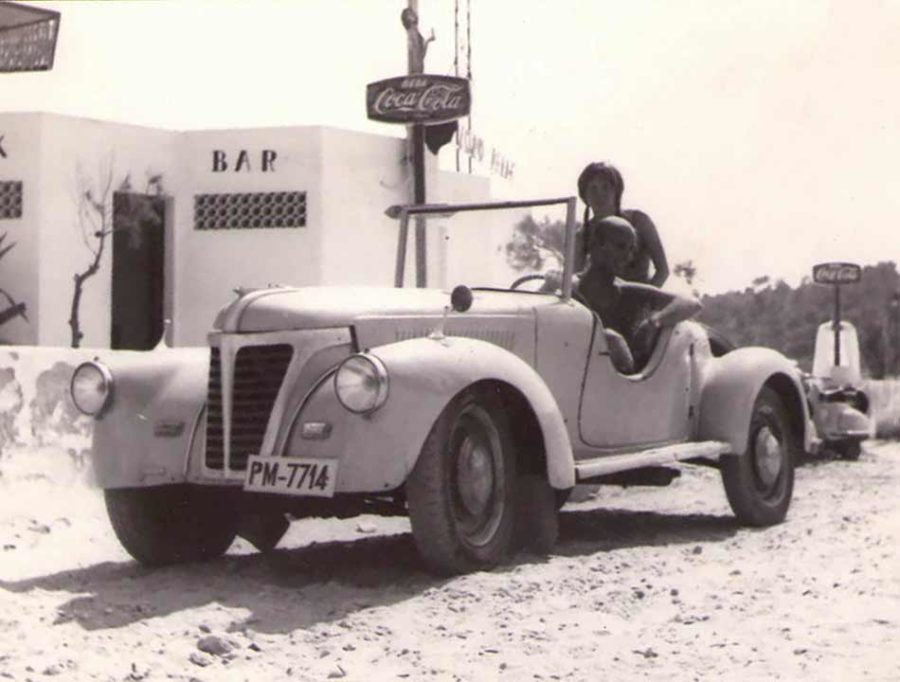 More than 60 years have passed, and much has changed. Mallorca was a haven of peace and only 362,000 people lived on the whole island. Tourism was just beginning. Today we will talk about what Mallorca was like in 1960, as seen through the eyes of our protagonist, Erika, when she arrived on our island. She tells us about it herself.
When and why did you come?
In March 1959 I arrived in Barcelona, already with a work contract. In addition to improving my Spanish, which I had managed to learn, I was fascinated by the idea of working in a foreign country. I had a good job in a bank, but my hometown in northern Germany, Oldenburg, was too small for me. I had not yet turned 21 and I had a great desire to see the world.
The work at the travel agency in Barcelona was very interesting and dynamic. And within a few weeks my boss had confidence in my work, so after a month and a half he offered me a job in Mallorca. Tourism was just starting and there was a need for people who could speak German.
How did you get to the island?
Flying by plane was very expensive back then, so from Germany to Barcelona I had to go by train. To get to Mallorca I made the journey by sea. I had never sailed on such a big ship before and the excitement of the moment kept me awake, so I got up early in the morning, not wanting to miss the ship's arrival on shore. Mallorca, an island in the Mediterranean… it sounded exotic and fascinating.
What struck you most?
Everything was different, everything was an adventure, every day, every place I visited. Initially I stayed at the Hotel Buenos Aires, which was on the Avenidas. The city was much smaller than Barcelona, but I found it very beautiful. It was also the month of May, and the spring light was spectacular.
What struck me most was that there was a lot of life in the streets, in the bars, on the terraces. Spaniards were talkative, smiling, boisterous, friendly and warm.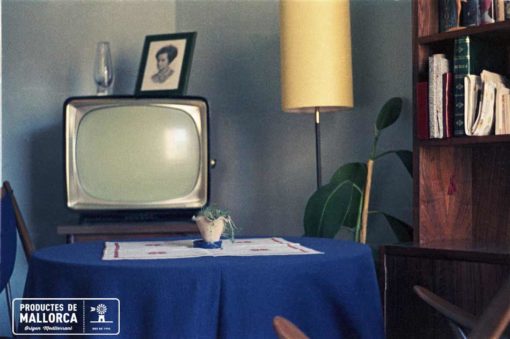 What was day-to-day life like?
After a short time I moved to live near Blanquerna street. A Mallorcan family had offered me a room in their flat and it was a bit like feeling at home, part of a family. I had to pay 1000 pesetas a month for accommodation and breakfast, and I couldn't really enjoy all this because I had to work long hours. Often with long waits at the airport, which was then Son Bonet, at Pont d'Inca.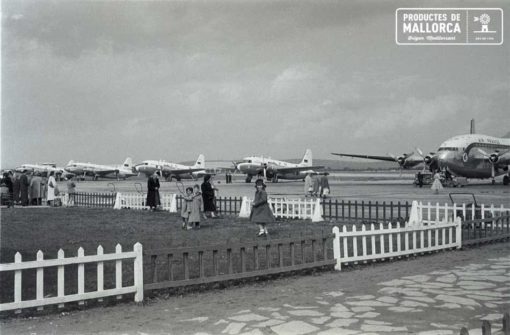 That 1000 pesetas a month was quite a lot of money, but I had a good salary: about 3500 pesetas a month, more than a bank clerk got, which was about 2700 pesetas.
I really enjoyed southern Europe, going out and living more outward looking. I almost always ate out, there were many restaurants that offered an affordable menu and for example a menu at the Yate Rizz on Paseo del Borne cost only 12 pesetas. Another place that no longer exists and that people loved to go for an ice cream was the Granja Royal in San Felio street.
Palma was not very big and you could walk to many places. Few people owned a motorbike or a car, it was a luxury for the time: a Vespa 125 was worth 19,600 pesetas and a Seat 600 much more, around 65,000 pesetas. Those who had a lot of money bought the Seat 1400, which was much bigger and more comfortable. A colleague in my office had a very small and funny car. It looked like an egg and opened at the front, I think it was called Isetta. The Vespa was very practical, although many women, riding on the back, sat sideways!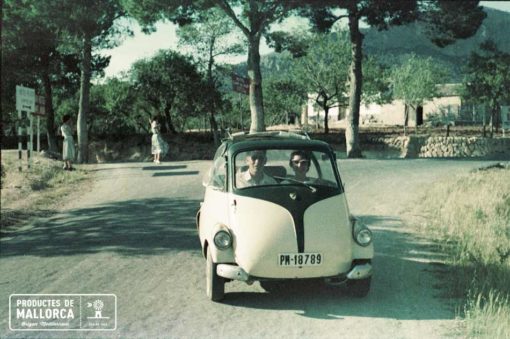 Isetta car driving around Mallorca in 1960
On Sundays, people went to mass, which was not only a religious ceremony but also a socialising event. People dressed nicely for the day and after mass they greeted each other and chatted animatedly. Later in the afternoon, many would take a stroll along the Paseo del Borne and sit down to read the newspaper or have a vermouth before lunch.
From May/June onwards people started to go to the beach, there were few people and the sea was clean and crystal clear. The bad thing is that it coincided with the busiest time of the year, so I could hardly ever go. However, I remember the beach of El Arenal, with many sand dunes, practically deserted and with very few hotels, among them the Acapulco and the Los Angeles. The beach of Santa Ponsa was an idyllic spot, next to a beautiful pine forest.
What were the biggest differences compared to Germany?
I found the people to be very cheerful, this was also reflected in the clothes, the fabrics were more colourful and tasteful than in my country. It was typical to go to the dressmaker and the shoes were more elegant and beautiful, so a lot of people were very well dressed.
It seemed to me that there were far fewer cars than in Germany and that in winter the houses were poorly prepared for the cold, although it lasted only a few months.
What did catch my attention was that to go to the cinema or to the dance, the girls had to be accompanied by a family member, it was not very popular for them to go alone or only with their suitor.
What did you like the most and the least?
It was fun to walk down the street, men would compliment you, but always in an elegant way. The island was beautiful, quiet and with a good climate, a real paradise. And if we talk about the food, very different from that of Germany, I found the tapas and also the red wine with soda very curious. I didn't like the paella then but… I loved the prawns!
Why did you decide to stay permanently?
I loved the island, I had a good job, I met a cheerful and funny Spaniard and at the end of 1960 I got married and after a while I had the first of my children. So my family is here and now, after more than 60 years, I am fully integrated and have many Mallorcan friends. You could say that I am already a Mallorcan.
If you want to know another curious anecdote about Mallorca in those golden years of tourism, read our article: Riding around Mallorca by camel